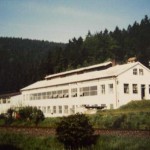 The company
Founded from Rudolf Schöbel in 1945 in Warmensteinach/Fichtelgebirge – 20 km to the east of Bayreuth – our manufacturing deals for more than 50 years and now in the third generation with manufacturing glass articles for the most varied operational areas.
On ca.10.000m ² surface we supply with approx. 40 employees our customers in the whole world with glass products in different forms, colours and qualities.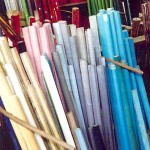 The Glass
We process and work on the most different qualities, like soda potash, lead glass with up to 40% of PBO portion, 22 stained glasses from stock, (opt. Quality), B270 pure-white in bars and blocks, SCHOTT-Conturax profile poles ,ARÓ and DURANÓ in bars and tube form. Also we offer the treatment and processing of flat glass.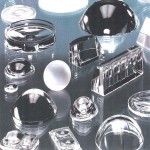 The Articles
By pressure of bars the size of our articles is up to  Ø 100 mm and up to a weight of 400 grammes. Therefore our manufacturing is predestined for the production by small glass articles. By the processing of glass bars or poles / pipe material the size of the supplier's reports are binding. Although we dispose of a extensive own form assortment, nevertheless, nearly 80% of our products are customised articles.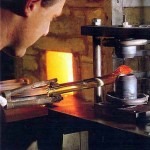 The processing
We have the know-how for nearly all kinds of glass processing: Pressing, plan grinding, milling, saws, drilling, branding, sandblasting / acid matting, to fire and acid polishing, printing, metal-coating, vaporizing, to tempering and hardening, bending, UV and 2 component-bonding, as well as customised packaging. From own tool construction, about pattern manufacturing and small series, up to the great serial production.
The Customers
We supply nearly all branches in industry and trade which connects the passion GLASS with us as a reliable and adaptable partner in the areas <DESIGN>, <TECHNOLOGY> and <TRADITION> with our products and services. Please, send us your inquiry or simply pattern or drawings.
The operational possibilities and the know-how of the last 50 years in the treatment and processing from hollow, pressed, level or pole glass meet all the wishes. Count on our craft talent and the available TECHNOLOGY.